The new United Colors of Benetton campaign is a celebration of color, of all colors. The iconic value of color is presented by a group of world citizens: nine trendsetters, a cosmopolitan team of nine ambassadors who support the Unhate Foundation.
United Colors of Benetton looks to the future, their future, without forgetting its heritage. In the words of Alessandro Benetton: we rely on "the iconic color value, a founding value for us to give a powerful assertion of the identity and excellence of this brand, which holds diversity as a value, and the unity of differences as a wealth to be treasured".
We shot our new campaign for three days in Paris, during which our ambassadors, who have distinguished themselves by their multicultural, cosmopolitan spirit and social commitment "recounted" their interpretation of color in front of the camera lense.
Who are they, our ambassadors? Hanaa Ben Abdesslem, Tunisian model, example for many Arab women; Charlotte Free, Californian model that has made the pink an iconic color; Lea T, the most famous transsexual model; Matias Perdomo, Uruguayan whose field of creation is a kitchen in Milan; Kiera Chaplin, granddaughter of universally known actor Charles Chaplin Kiera is also is a supporter of UNESCO; boxer Dudley O'Shaughnessy and model Mario Galla; Alek Wek, an international model who has never forgotten his native Sudan and the multicultural Elettra Wiedemann, always active in issues related to the environment.
Thus, diversity is our flag and colors the way we express it. In our boutiques you'll find our iconic knitwear, where simplicity reigns supreme because for us the basics are fashion. In addition, a limited edition T-shirt with images of the campaign will be on sale worldwide and all funds raised will go to the Unhate Foundation activities.
All pictures (and video) that accompany this post belong to the behind the scenes of the performance of our campaign Spring-Summer 2013. Discover the full shooting in benetton.com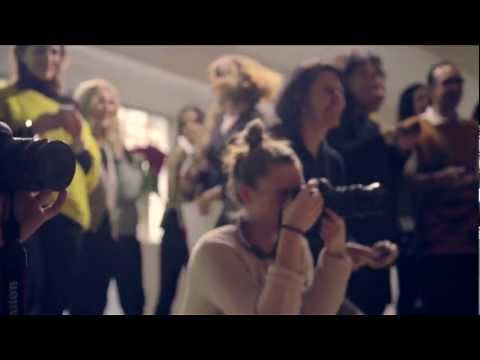 Read more on Central America's blog